Year 4
MRS EVANS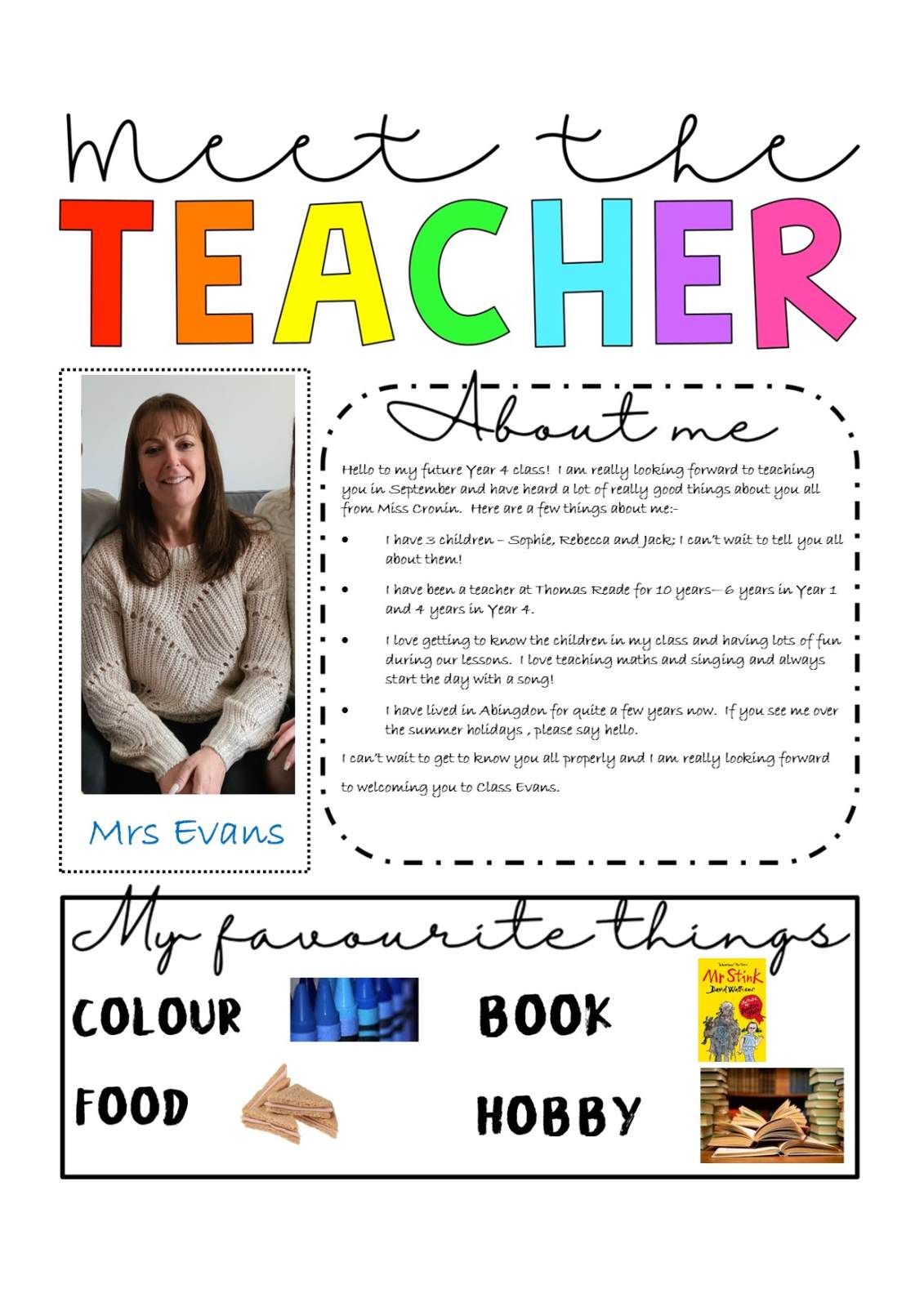 Teaching Assistants
Our Year 4 Teaching Assistants are Mrs. Elsmore and Mrs Webster.
Hello, my name is Mrs. Elsmore and I am very fortunate to work with Mrs Evans in Year 4. My own children attended Thomas Reade and after gaining experience as a parent helper, I became a Teaching Assistant and have worked at Thomas Reade for over ten years.
I'm Ms. Webster and I am looking forward to working in Year 4 with Mrs. Evans and Mrs. Elsmore . I have been working at Thomas Reade for 21 years, and have been lucky enough to work in every year group! My daughter, Becky attended Thomas Reade many years ago – she's now 26 years old. I also have a 29-year-old son, Daniel, who has a keen interest in Joseph and the Technicoloured Dreamcoat! I have a huge passion for health and fitness and enjoy spending my free time going to the gym and taking part in Bootcamp sessions. I previously played Badminton and was taught by ex-Olympian Julie Bradbury – I learnt a wide range of techniques from her. I've also recently started doing yoga which I find very relaxing!
Class Expectations
In Year 4, all children are expected to:
- Behave sensibly
- respect everyone and take care of our equipment
- work sensibly and safely
- be kind to others
- listen to and follow the instructions of our teacher
- stay focused on our own work
- always try our best in everything
It is ok to make mistakes because we always learn from them in Class 4 (and across the whole school). We always try to 'Go for Gold', which means that we challenge ourselves in every subject. In our class, if we follow the rules, we have lots of fun with our learning every day!

PE days - Monday and Wednesday until 29th September

From Monday 2nd October PE will be Monday and Tuesday
From 2nd November Swimming will take place on Thursday morning.

Highlights Of The Year

If we work as we are expected to do and follow the rules in Class 4, we are rewarded with multilink in a jar. As soon as we have filled the jar, we have a treat! Our treats include a DVD afternoon with popcorn and sweets.

We go on two main school trips over the year, including The Ashmolean Museum to see all the Ancient Egyptian artefacts (our History topic in the Autumn term) and The Steam Museum to learn more about World War 2 (our History topic in the Summer term). We also have many opportunities to take part in a range of different sporting events, such as the Quad Kids Athletics Tournament, Tennis at the White Horse Tennis and Leisure Centre, Football tournaments, Gymnastics tournaments and Cricket tournaments – these are really fun to take part in and we get to cheer on our classmates!

In the Spring term, we put on a performance with Class 5 and we get to perform in front of the whole school for one afternoon, as well as to our family members one evening after school! They are so much fun, they help to develop our confidence on stage, and we get to learn lots of new songs and dances.

Throughout the year, we go into the cookery room to make a variety of baked goods, including gingerbread biscuits for our DT Christmas gift boxes, Ancient Egyptian cookies and the 'Lord Woolton' Pie which was popular in World War 2.

In the Autumn term, it is our turn to have our swimming lessons at the Leisure Centre, which are really fun, and we get the opportunity to improve our swimming strokes. This year we will be taking part in outdoor learning sessions with Mrs Stimpson and Mrs Elsmore.